Meet the new
Vinari OS
4.0.0 HELIUM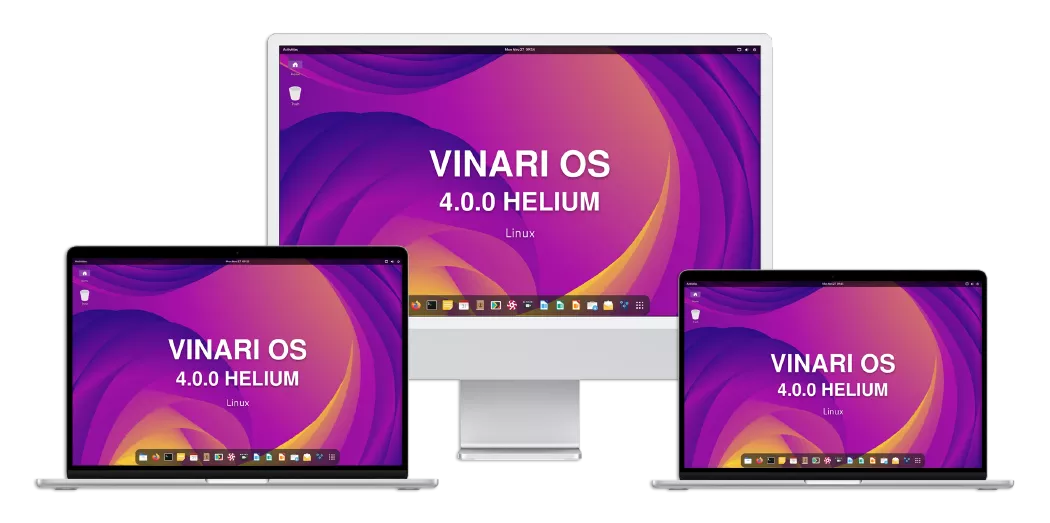 Even more beautiful.
More convenient.
Just as free.
With the new Vinari OS 4.0.0 HELIUM, your computer will be powered by the Linux 6.1 kernel, GNU & Vinari Software core utilities, and GNOME 43.6, making it even easier to use, as well as faster, safer, and ready to help you be as productive as you can without getting in your way the minute the installation is over.

Up to date yet stable.
Built upon the solid foundation of Debian 12 Bookworm, Vinari OS 4.0.0 HELIUM combines the power of a robust operating system with a free and user-friendly interface. With the new Vinari OS 4.0.0 HELIUM, you can enjoy the benefits of a rich software ecosystem through its seamless support for Flatpaks and AppImages. Say goodbye to complex terminal commands; Vinari OS 4.0.0 HELIUM streamlines the update process thanks to GNOME Software, ensuring that your system remains stable and up to date with just a few clicks.

Experience the harmony of elegant design, reliability, and convenience with Vinari OS 4.0.0 HELIUM.

The epitome of efficiency.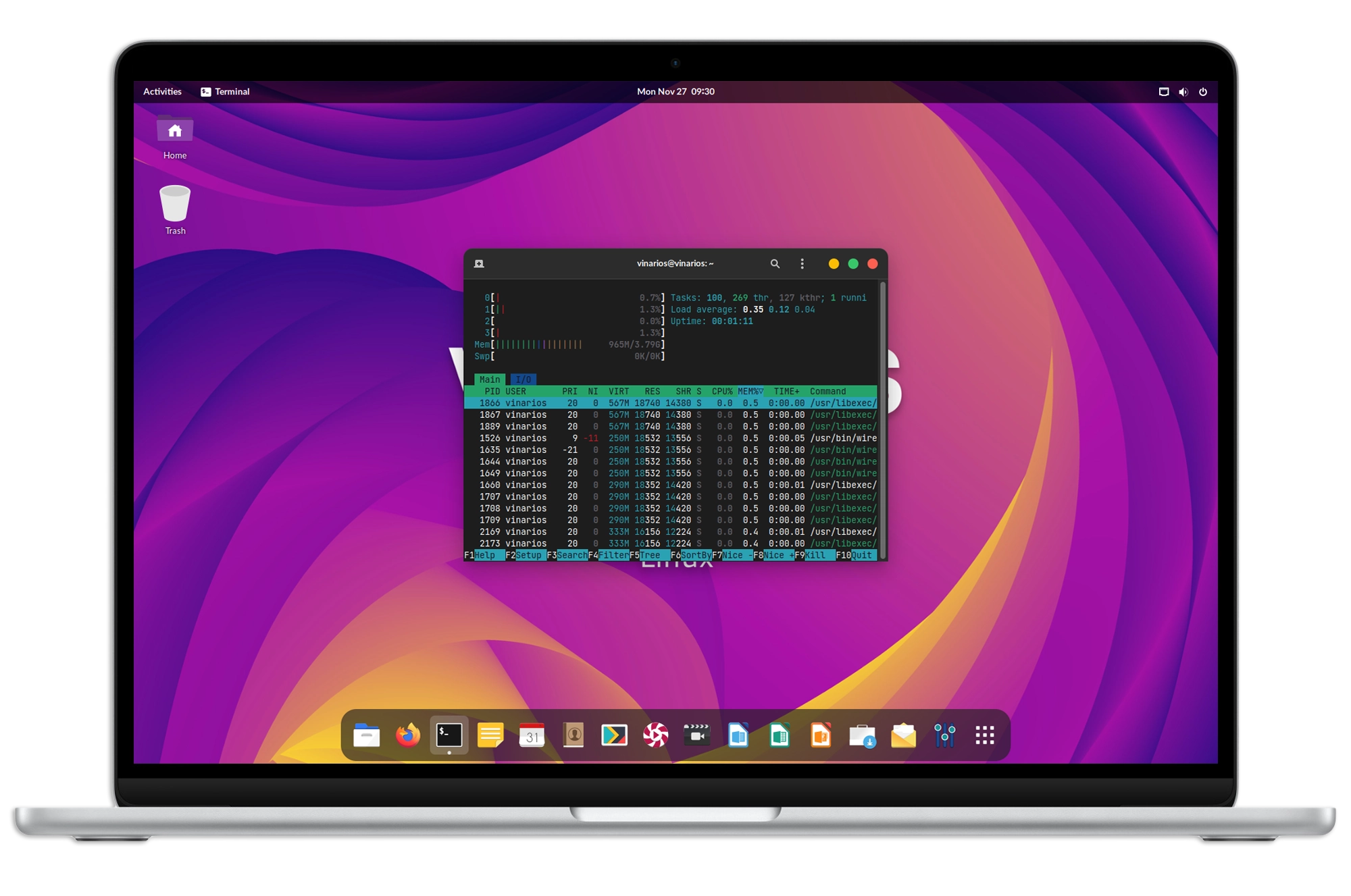 The epitome of efficiency and performance, the new Vinari OS 4.0.0 HELIUM. Crafted on the foundation of Debian 12 Bookworm, Vinari OS exudes elegance by using the GNOME desktop environment while optimizing system resources to provide a lightning-fast experience. With a remarkable idling memory usage of a mere 1 GB, Vinari OS 4.0.0 HELIUM ensures your machine runs smoothly and efficiently, freeing up valuable resources for your tasks at hand.

Even better, Vinari OS 4.0.0 HELIUM gracefully operates on just a 2-core CPU, harnessing the true potential of your hardware without unnecessary strain, or unnecessary and artificially imposed minimum requirements. Prepare to witness unparalleled responsiveness and fluidity as Vinari OS 4.0.0 HELIUM seamlessly combines power and grace, bringing a new standard of performance to the Debian-based Linux landscape.

Ready to work.
With an impressive array of pre-installed tools and applications, Vinari OS 4.0.0 HELIUM ensures you're ready to hit the ground running. Seamlessly integrated into the system, you'll find the versatile LibreOffice suite, empowering you to create, edit, and collaborate on documents effortlessly.

Stay connected and organized with the refined Geary email client, while the powerful Firefox web browser offers a seamless browsing experience. Vinari OS 4.0.0 HELIUM also brings the convenience of GNOME Contacts and GNOME Calendar, allowing you to effortlessly manage your contacts and stay on top of your schedule. With Vinari OS, your work begins the moment you install it, empowering you to achieve greatness with grace and simplicity.


Handle your multimedia with unrivaled finesse.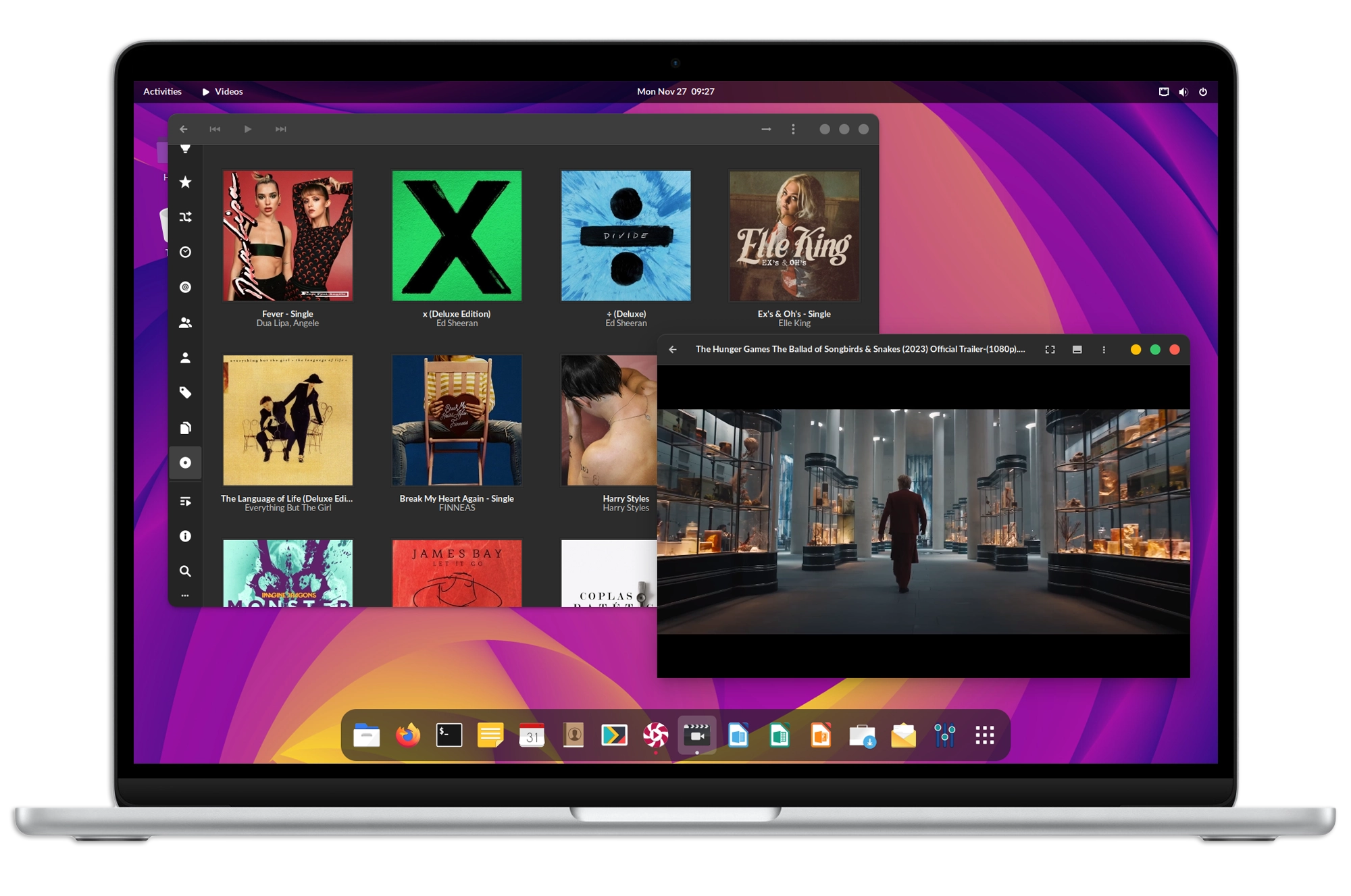 Vinari OS 4.0.0 HELIUM seamlessly integrates with an extensive range of multimedia formats, ensuring that your entertainment experience is unparalleled. Dive into a world of musical bliss with the elegant Lollypop music player, offering a refined interface and robust features for organizing and enjoying your favorite tunes. Immerse yourself in cinematic brilliance with Totem, the video player that flawlessly supports a variety of video formats, delivering stunning visuals and immersive sound. When it comes to images, Vinari OS 4.0.0 HELIUM presents EOG as the go-to image viewer, allowing you to effortlessly browse and appreciate your snapshots.

And for those seeking next-level image management, look no further than Shotwell, the comprehensive image library that empowers you to organize, edit, and share your photographic masterpieces with ease. With Vinari OS 4.0.0 HELIUM, your multimedia experience reaches new heights, combining cutting-edge technology with the utmost elegance and simplicity.

No paywalls for anything.
Everything is available to all, without the burden of paywalls or premium offerings, Vinari OS 4.0.0 HELIUM embraces the ethos of open-source software, empowering users to explore, create, and innovate without limitations. Every feature, every tool, and every application is at your disposal, unrestricted and free of charge. Say goodbye to hidden costs and locked features; Vinari OS 4.0.0 HELIUM unlocks a world of possibilities, where the boundaries of creativity and exploration are expanded.

With Vinari OS, the power to shape your digital experience is in your hands, offering an inclusive and liberating environment that encourages collaboration and growth. Join the movement where openness reigns supreme, and discover the remarkable potential of a truly free and convenient and open Linux distribution.
Unlock your full coding potential.
Vinari OS 4.0.0 HELIUM caters to developers needs right out of the box, packed with powerful tools like GNU Emacs, Ruby, GCC, and G++, the completly new Vinari OS 4.0.0 HELIUM provides a comprehensive development environment that fosters productivity and creativity. The inclusion of PHP, Vala, Java, and a plethora of other languages in its repositories ensures that developers have a vast array of options readily available for their projects.

Vinari OS 4.0.0 HELIUM mbraces the developer community by offering a seamless and streamlined experience, eliminating unnecessary barriers and providing a polished platform for coding mastery. Experience the perfect harmony of power, flexibility, and simplicity with Vinari OS, your gateway to a world of limitless development possibilities.

Continuous support.
With a promise that extends until 2028, Vinari OS 4.0.0 HELIUMstands as a testament to its dedication to your computing journey. Built upon the reliable Debian foundation, the brand new Vinari OS 4.0.0 HELIUM ensures that you can rely on its stability and security for years to come. While other systems may leave you searching for frequent updates or migrations, Vinari OS guarantees a consistent and seamless experience, sparing you the hassle of frequent transitions.

With Vinari OS, you can focus on what truly matters – your work, your projects, and your passions, knowing that your operating system will remain robust and supported well into the future. Embrace the reassurance of a Linux distribution that keeps pace with your ambitions, delivering unparalleled support and peace of mind.
An oasis of style and aesthetics.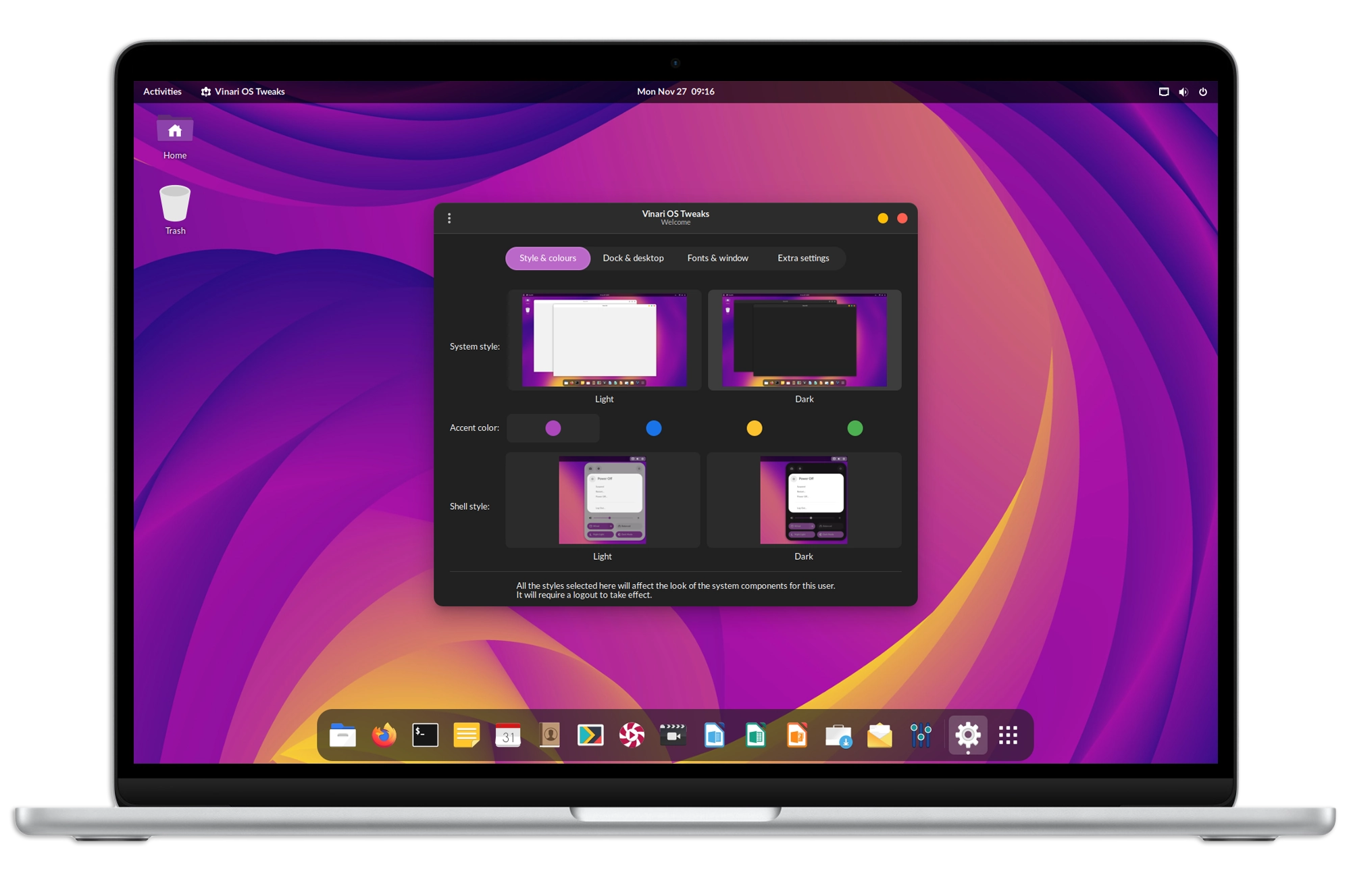 With the ingenious Vinari OS Tweaks tool, customizing your desktop has never been easier or more enjoyable. Vinari OS 4.0.0 HELIUM empowers you to take full control of your desktop experience. Move the dock, redefine the GNOME shell style, and effortlessly switch between a vast collection of stunning GTK 3 and 4 themes to reflect your unique personality.

Whether you prefer a sleek and minimalist look or a vibrant and expressive interface, Vinari OS 4.0.0 HELIUM has you covered. Unlock your creativity, unleash your imagination, and craft a desktop environment that is as extraordinary as you are. Vinari OS brings you the power to shape your digital world with simplicity and elegance, ensuring that every click, every glance, and every interaction is a masterpiece of customization.

A welcoming space.
Vinari OS 4.0.0 HELIUM is your friendly destination, no matter where you're migrating from. Our dock offers delightful customization, serving as both a sleek task bar and a timeless traditional dock. Familiarity awaits macOS enthusiasts as we embrace the beloved traffic light-style buttons for window controls, albeit with a Windows-inspired arrangement. And fear not, for this arrangement is malleable, ensuring a seamless transition for newcomers to both Windows and macOS worlds.

Welcome to the completly new and revamped Vinari OS 4.0.0 HELIUM, where the best of both worlds unite for your convenience.
Vinari OS

4.0.0 HELIUM

is available now!
Check if your PC can run it

Processor: Dual core 64 bit only Intel or AMD running at 1.5 GHz
Memory: 2 GB (3 GB required for better experience).
Graphics: AMD, Nvidia or Intel with 64 MB of Video RAM.
Display: 1024x768 resolution.
Startup system: BIOS or UEFI.
Storage: 10 GB free on an EXT4 partition.
Input device: Mouse and keyboard or touchscreen.